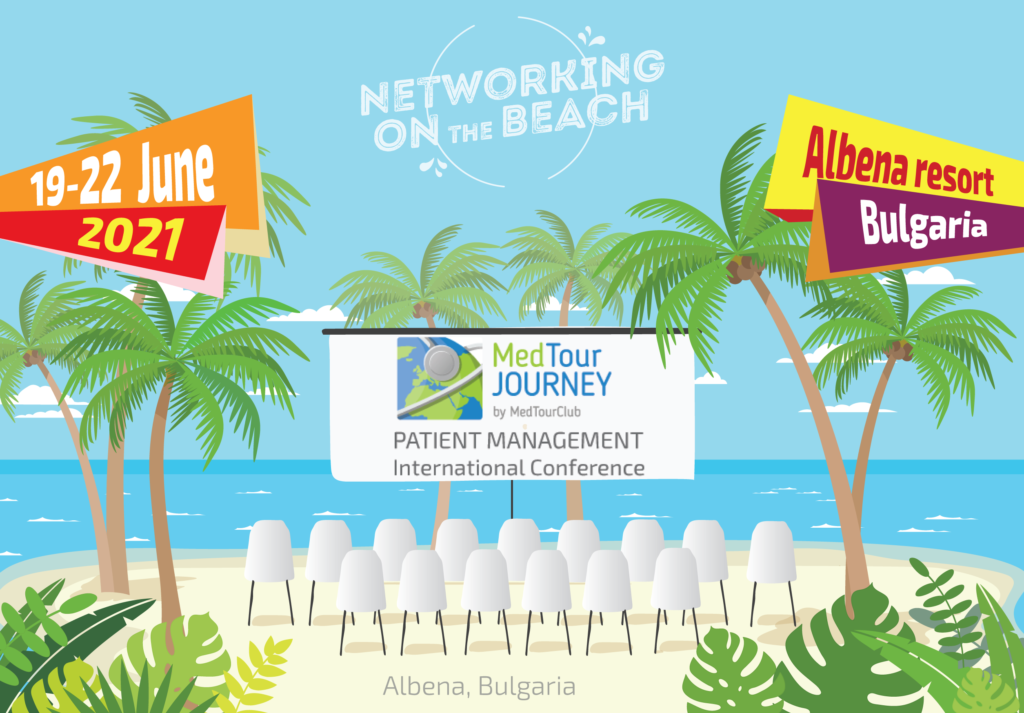 FOR ONLINE LISTENERS:
We invite you to join a MedTourJourney – the 3rd International Conference & Networking «Patient management: international experience», which will be held on the 21st of June (Albena resort, Bulgaria).
Book your place to be a Partner or Individual attendee, visit Online OR in-person!
The main sections of the Conference:
– Medical marketing and branding, from the world experts.
– Patient management. International expierence.
– Medical tourism as a possibility for patients.
– The post COVID rehabilitation experience. Best Medical wellness solutions.
At the Conference we expect 250+ attendees (50+ in person and 200+ online) international and local medical tourism professionals: doctors, medical tourism providers, and facilitators.
We will use a special interactive platform with a simultaneous stream on YouTube and Facebook.
For all partners we offer virtual booths and B2B online video-meetings.
The language of the event – is English.
Choose you option to join: online or in-person
Registration is open! https://hopin.com/events/networking-on-the-beach
FOR PARTICIPANTS:
Are you seeking foreign patients?
If the lockdown has reduced the flow, then you definitely should be here!Do you want to know the best international marketing practices for your clinic?
What if the regular strategy is no longer effective and doesn't work any more?
What is the best way to work with foreign partners (agents)?
Let's find out first hand directly from them during the panel discussions!
Another one Conference which doesn't "fix" anything and brings nothing new?
You should attend the International Conference "Patient Management. International experience" (online or in person) and stay tuned to the modern trends!
At the event you will able to:
✅ find out effective and failed marketing methods (we invite leading industry experts)
✅ tell the whole world about your clinic/medical center, treatment method or unique technology! We will broadcast it online to all parts of the world!
✅ meet new partners (virtual stand/booth on a special online platform where you can show up and negotiate!)
✅ get insights!
By the way, the places are limited, we can offer just 10, so don't miss the chance…
Register NOW