The European Historic Thermal Towns Association (EHTTA) has launched a new campaign: "Rediscover" plays on the prefix "Re", which invites travellers to take up activities again, to come back to places they may have forgotten, and to look at the thermal towns of Europe with new eyes.  With a video clip and a series of stunning images on social media, EHTTA wants to raise awareness of the potential of Europe's historic thermal towns to meet the post-pandemic needs of new generations of health and wellness tourists.
This campaign is not only important in a B2C context, but in a B2G one too, as it has become clear in the gradual unlocking of tourism, that thermal towns and establishments are often not high priorities for regional and national governments,  despite the clear benefits to health and well-being of visiting and staying in a thermal town.
EHTTA President Manuel Baltar, speaking recently at the launch of the "Rediscover" campaign, said: "I have believed ever since the start of the pandemic that thermal towns will and should be an essential part of our recovery in Europe.  We are experienced in welcoming and looking after people from all walks of life.  People are drawn to our towns, for the waters and for their healthy lifestyle that feeds body, mind and spirit.  We all need that thermal lifestyle more than ever, to help us recover, and to strengthen our ability to cope with any new challenges that come along.  We believe that thermal towns can provide a solution that people are searching for, and we invite those people to reassess what they think they know about our towns, and to rediscover their charm, their historic roots, their stunning thermal architecture and the health-giving thermal waters."
As people emerge from the pandemic, with a new set of priorities for themselves, their families and the planet, it seems that they want more from a vacation then before. They are seeking:
Less crowded places with a more restful pace of life;
Access to nature and exercise in green spaces;
Good food and drink – ideally locally produced;
Activities that provide stimulation as well as recovery for body, mind and spirit;
Prevention of sickness rather than treating illness;
Places that are accessible by rail – taking fewer flights;
Wellness facilities and treatments with high standards of hygiene – reassurance and safety certificates;
Slow travel, and slow food;
Longer stays in the spa towns.
Destinations of wellbeing for centuries
Europe's Historic Thermal Towns have been providing all of these elements – and more – for hundreds of years!  As some of the earliest tourism destinations in Europe, this long experience means that the towns, all built around healing sources of thermal mineral water, are well placed to provide an experience like no other.
In the past, spa town guests would spend weeks or months at a time, becoming well by "taking the waters", but they also needed to be entertained, and so thermal towns, which are often quite small, have facilities that can rival major cities.  They have theatres, concert halls, art galleries, casinos, festivals, restaurants and good quality hotels, parks and gardens and landscapes deliberately designed for activity and exercise. There are also museums, historic buildings, guided tours, and much more, as well as the thermal baths and springs themselves.  A stay in a thermal town is more than relaxation, it's a cultural experience too, where feeding the mind and spirit is as important as healing the body.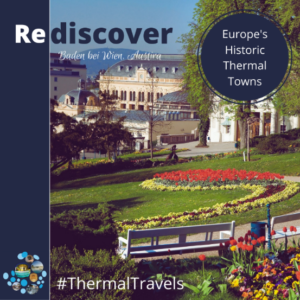 So as well as Relaxing with the spa tows, they are inviting to:
Restore….. Your health and wellbeing
Recharge…… Your batteries
Revitalise….. your tastebuds
Revive…… your joie de vivre
Renew….. your sense of wonder
Recover….. Your peace of mind
Reignite ….. Your passion
Retrace….. Roman footsteps
Reawaken….. your senses
Rebuild….. your strength
Reinvent….. yourself
Reconnect….. to nature
Restart…..your thermal journey and
Rediscover….. Europe's Historic Thermal Towns
The world has changed but Europe's thermal towns remain, ready to share the gift of healing, perfectly formed to meet the needs of people who look at their lives and their leisure time differently now. Historic thermal towns in Europe are ready to be rediscovered as the ideal destinations for health and wellbeing, culture and heritage, as well as sustainability, all in one perfect package.
See the new Rediscover Campaign video at www.ehtta.eu
@HistoricThermal towns on Facebook and Instagram
@ThermalTowns on Twitter