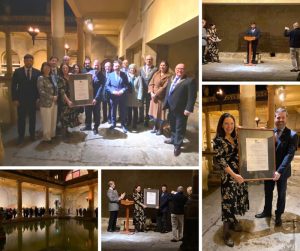 The Great Spa Towns of Europe was holding its second General Assembly in the World Heritage City of Bath on 2nd March 2023.
The UK's Ambassador to UNESCO, HE Laura Davies presented Cllr Kevin Guy, the Leader of Bath & North East Somerset Council with Bath's second UNESCO World Heritage Inscription certificate at a short reception at the Roman Baths. The Great Spa Towns of Europe World Heritage Site now sits alongside the Bath's original 1987 inscription.
Speaking across the Great Bath's steaming thermal water, Ambassador Davies said that the Great Spa Towns of Europe is "truly an example of eleven players and one great team". She affirmed UNESCO's "determination to connect with communities and commitment to education…. (and to) build peace and the defence of peace in the minds of men and women". Ambassador Davies praised the group, saying that "the Great Spa Towns of Europe are a real example of best practice in the World Heritage Space…I believe absolutely in transnational world heritage sites. For starters, they very literally put the 'world' into 'world heritage'."
The Ambassador went on to praise the local municipality in Bath, Bath & North East Somerset Council, for "embracing international commitments" and World Heritage, acknowledging that World Heritage Status is "not just a prize but a real responsibility". She said it was "truly gladdening" to see how the City had handled its World Heritage obligations and praised the "clean and green" initiative that takes the waste thermal water from the Roman Baths and heats Bath Abbey (the Footprint Project).
Before finally presenting the new inscription certificate to Councillor Kevin Guy, the Ambassador remarked that "All UNESCO designations are ultimately about community and people – the Great Spa Towns of Europe, more than most, with your OUV so closely associated to the town's therapeutic landscape and layout. I would like to thank you and congratulate you for everything you do to keep this great designation protected connected, and above all so very vibrant. There is so much potential in this room tonight It is really exciting to see where you're going to take it next."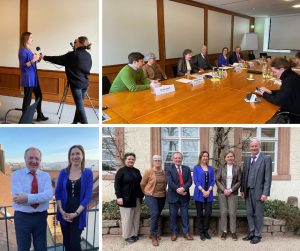 New Secretary General Chiara Ronchini, who has just returned from her first familiarisation visit to Baden-Baden in Germany said "For me, this visit to the beautiful City of Bath is going to be about meeting people, diving straight into the work of the Association with the General Assembly, and getting up to speed with all the projects that we will be working on for the next 12 months. I am immensely grateful for the support I have already received from Paul Simons and our Chair, Stefan Szirucsek, and I am looking forward to meeting and working with colleagues from the seven countries.  Our transnational co-operation has already been recognised by UNESCO as an example of best practice, and it is an exciting time to be joining the Great Spa Towns of Europe."
Find out more at Great Spa Towns of Europe
The press release is available here.