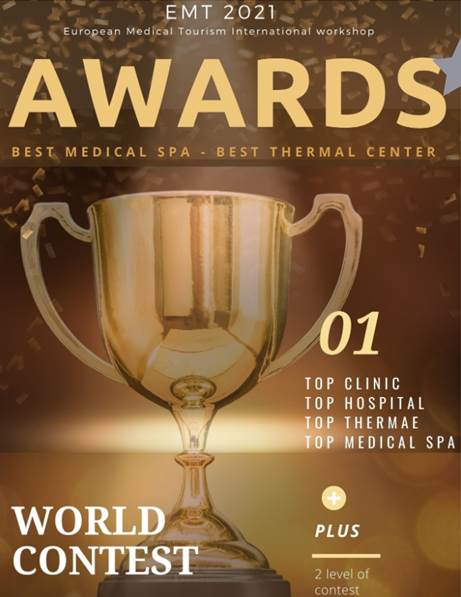 Health Tourism Industry – HTI is proud to be the European Medical Tourism b2b workshop partner, and we would like to meet and welcome you at the next live event in Abano Terme, Italy, 29-30 June.
Register at https://lnkd.in/eRDFD2U (insert the code HTI001) or fill in the registration form HERE  and send it to Federica at medical@wfsevents.it
This event is dedicated to those searching for new business partners in the International Thermal, Health & Wellness industry of professionals worldwide. You will have the opportunity to connect with significant travel agents specialized in Thermal, Health & Wellness, set up new business contacts, and extend your clients' database. You will also hear about the statistics and trends of international markets and recent trends, reimbursement methods provided in the various European and non-European countries, how it works, what the mechanisms are, and how to access the reimbursements. You will also have a chance to meet global experts, learn about innovative products, rehabilitation centers, and private clinics.
Last but not least, the best performing, and most customer oriented medical service providers will be awarded as the best medical spa, thermal center, clinic or hospital.
Draft Agenda: "NEW CHALLENGES IN MEDICAL TOURISM"
Tuesday, 29 June 2021
09.00 Registration
09.15 Opening: Mariaantonietta Princivalle – Founder, BookingsMed & AIPTMT, Italy
and Natalia Strokovska – Founder, DoctorGEO&SPA Journal and Agency, Ukraine
09.30 Yulia Sukhneva – Head of International Marketing and communication Gruppo San Donato, Italy
09.45 Arber Guma, Clinica Zogu I Pare e Clinica Italiana, Albania
10.00 Adele di Mauro – Thermal Medical Centres Italy
10.15 Panel Discussion how to get new international clients after Pandemy: Ekaterina Neparitdze – HTI Center, Georgia, and F.J.Biesel – Kuren und Wellness, Germany
11.00 Aurelius Marek Pietruszka – GVM Care & Research – International Development
11.15 Gheorghe Dima, Implant Eladent Dental Clinic
11.30 Mariaantonietta Princivalle – Developments of the Projects for 2022, BookingsMed & AIPTMT, Italy
11.45 Leila Kresic-Juric – Managing Director & Partner, HTI Partner – Business & Branding in Europe with HTI – Health Tourism Industry
12.00 Natalia Strokovska – Founder DoctorGEO&SPA Journal and Agency, Ukraine
12.15 Emin Cakmak – Organizer Partner of Hestourex, Turkey
15:00-17:00 IVF Roundtable
17:00-18:00 Dental & Aesthetic Roundtable
18:00-19:00 Health: Prevention & Cures at thermal centres and medical spa
Evening session: Awards to best medical spa, thermal center, clinic and hospital
Wednesday, 30 June 2021
09:00-18:00 B2B meetings / 20 min per slot (lunch 13:00-15:00)