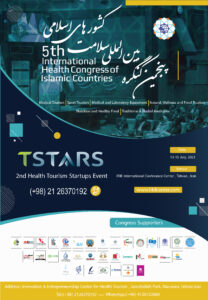 We are pleased to inform you that HTI has partnered with the "5th International Health Congress of Islamic Countries" which is going to be held on 13-15 July 2021 in Tehran, Iran. The congress is organized by Health Tourism Development Center of Islamic Countries (HTDC) and supported by ministries, federations, institutions, and organizations in health tourism as well as private and governmental health service providers.
The event started its official operations in 2015 with the aim of playing an effective role in developing economic relations and facilitating the networks between stakeholders in the health and health tourism industry. For the fifth round of the congress, seniors and experts from governmental and private sectors are all invited to find new opportunities of cooperation and develop their network in the market of Islamic countries.
There are five specialized panel discussions: Medical Tourism / Sports Tourism / Natural, Wellness and Food Tourism / Medical and Laboratory Equipment / Nutrition and Healthy Food.
Participants can attend the exhibition, whether in-person or virtually simultaneously, and present their services and products. Also, they can attend B2B meetings for finding counterparts and opportunities of cooperation.
The second international event to introduce investment opportunities in the health and health tourism of top start-ups – TStars, will also take place during the event.
There is a possibility for visitors to virtually visit the Congress Sideline Exhibition. You may also apply to book a virtual booth on the exhibition platform (www.iroxpo.com). For that, go to https://app.mlsend.com/r3j9d0/
Event info is available at https://htdcenter.com/
For more details and participation, please contact the HTI Representative for Iran, Dr Sasan Momeni at Drsasanmomeni112@gmail.com or at WhatsApp number +989121128335.