Only a few years ago, medical tourism was a blip in overall global tourism spending. Today, it is a multi-billion dollar industry that is expected to increase by up to 25 percent per year over the next 10 years.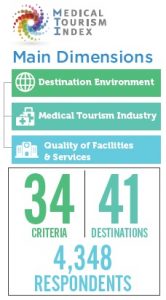 Using Visa transaction data we can see how much medical tourism has grown and project future growth from there. As the world's population ages, hundreds of thousands of travelers are expected to seek medical services outside their home country—and spend billions of dollars on treatments. Visa can provide a near real-time view into the size and scope of the world's leading medical tourism centers.
By examining cross-border spending for medical services in more than 176 countries, we found the United States to be the single largest hub for medical tourism. Thailand, Singapore, Germany, Korea, and Spain are quickly catching up, increasingly attracting visitors from around the world, according to an analysis of transaction data. Business and government leaders can use this information to identify unique opportunities.
Understanding the travel patterns can inform investment decisions, like where to build new hospitals. Meanwhile, travel service providers can also benefit from these insights—whether planning investments in ancillary businesses, like hotels, or determining where to add new flight routes.
---
Source, 1. Mapping the Future of Global Travel and Tourism, 2016 Visa in Partnership with Oxford Economics; ©2016 International Healthcare Research Center and Medical Tourism Index. All Rights Reserved. Duplication without Permissions Strictly Prohibited.http://www.medicaltourismindex.com/mti-news-insights/