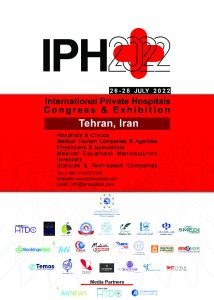 Hospitals, clinics and medical centers are key players in the health industry. Health Tourism Development Center of Islamic Countries (HTDC) in cooperation with international hospital associations and other related organizations is going to hold an event with the title of "International Private Hospitals Congress & Exhibition (IPH 2022)" from July, 26th to 28th, 2022 in Tehran, Iran, to introduce and share capacities of the players in different countries.
This event aims to share experiences and introduce the related and latest solutions and technologies, as well as develop international cooperation through the targeted players. This event is a great opportunity to introduce, brand and share the capabilities of key players and stakeholders in the health and health tourism industry, including service providers and manufacturers related to the industry, such as clinics, hospitals, laboratory and equipment producers and distributors, pharmaceutical manufacturers, and also health tourism facilitators.
IPH 2022 has different programs and sideline events including an official ceremony, face to face meetings, business forums, exhibition, specialized panel discussions, training and knowlegde sharing sessions.
Exclusive offers to HTI network community and newsletter recipients:
Thanks to its cooperation with HTI, the Health Tourism Development of Islamic Countries (HTDC) offers a discount. Availability upon confirmation by HTDC/HTI.
For those who are interested in participate in the exhibition virtually: you get a virtual booth free of charge for standard plan. Please go to https://iroxpo.com/expo/22  and insert the code HTINEWS at Discount Code section. Please register at the website before "booking e-booth".
For onsite participation you get 50% discount on the registration fee for visitors (200 USD). Upon confirmation by HTDC/HTI, selected clinics and hospitals get 3 nights' accommodation free of charge incl. local transfer. Please go to https://iphospitals.com/ and insert the code HTINEWS in the registration form.
For further assistance please contact:
info@iphospitals.com and/or ic@htdcenter.com or WhatsApp Number: (+98)2126370192
Health Tourism Development Center of Islamic Countries