Akromion Special Hospital for Orthopaedic Surgery is the largest private orthopaedic hospital in the Republic of Croatia. This year Akromion Special Hospital celebrate 10 years of successful work.
Our patients have the many years of our team's expertise, dedication and courtesy at their disposal to make them feel safe.
Akromion Special Hospital has state-of-the-art equipment and high technology at its disposal, as well as a complete system computerization that enables us to provide our patients with swift and quality monitoring of their medical conditions.
Our doctors, orthopaedists, nurses and other staff strive for our patients' smooth recovery. Our top-quality partners and our team, the modern technology used in our institution, as well as a pleasant ambience, all serve our patients.
The expert team at the Akromion Special Hospital is led by university professors, Dr. Miroslav Hašpl and Dr. Nikola Čičak. Other members of the team include Dr. Hrvoje Klobučar and Dr. Denis Tršek. The anaesthesiology team consists of Dr. Siniša Šoštarić and Dr. Krešimir Oremuš. Dr. Damir Starčević, Dr. Nenad Medančić, Dr. Tomislav Tabak and Dr. Aida Filipčić, our physiotherapist, provide daily services to help our patients heal and get well.
Akromion provides all medical services in the fields of orthopaedics and traumatology, such as: shoulder, knee, ankle and elbow arthroscopy, artificial joint, hip, knee and shoulder implantation. We also carry out reconstructive surgery of all joints, and treat fractures and their consequences.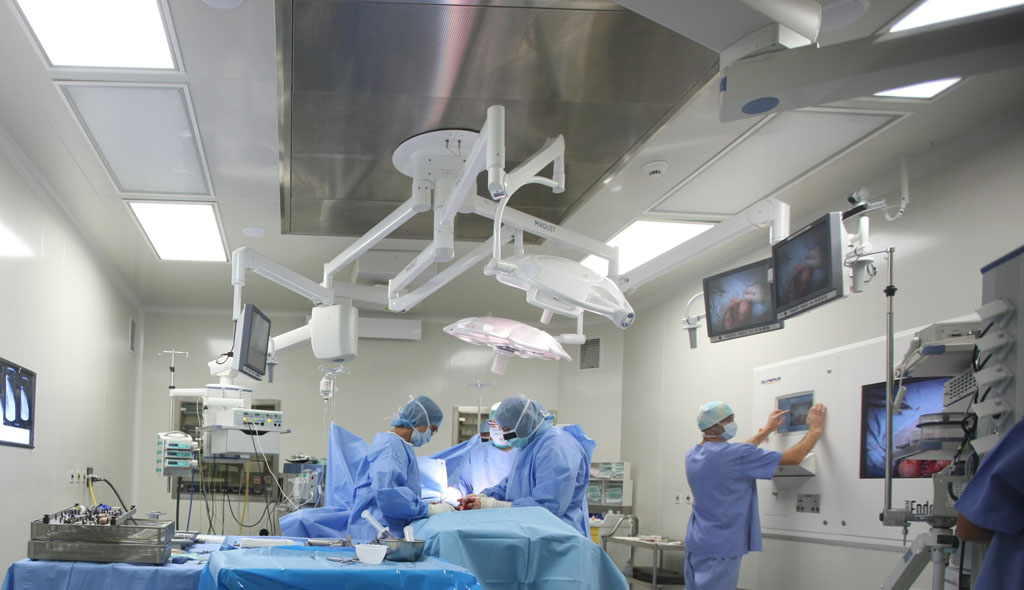 Consilliary-specialistic orthopaedic services
Akromion Special Hospital provides the following services: specialist examination and provision of professional opinions in orthopaedics and traumatology of the musculoskeletal system.
Orthopaedic surgeries

In Akromion Special Hospital treat diseases and injuries of the musculoskeletal system with the most modern techniques. Akromion particularly emphasize the following surgeries: arthroscopic procedures – arthroscopic shoulder surgery: shoulder stabilization, rotatory cuff repair, calcification removal; arthroscopic knee surgery: meniscectomy, suturing meniscus, articular cartilage surgery, reconstruction of the anterior and posterior cruciate ligament; ankle arthroscopy; elbow arthroscopy; hip arthroscopy; joint replacement surgery – hip replacement: total hip replacement (bearing surfaces: metal, ceramics, cross-linked polyethylene), revision, acetabular reconstruction with trabecular metal; knee replacement: hemiarthroplasty, total knee replacement, revision; shoulder replacement: total shoulder replacement, resurfacing shoulder arthroplasty, reverse shoulder arthroplasty; other common surgical procedures: treatment of bone fractures, treatment of the malunion and non-union of the fractures, hallux valgus corrections, carpal tunnel surgeries, corrective surgeries of the musculoskeletal system; spine surgeries: spinal degenerative diseases, herniated disc, spinal stenosis, spondylolisthesis, and spine stabilization.
Physical therapy and rehabilitation services
Our rehabilitation programs include:individual medical gymnastics with one physical therapist and procedures adjusted to the condition and needs of the patient: therapeutic ultrasound, magnetic therapy, electroanalgesic procedures, electrostimulation, laser therapy, continuous passive stretching, shock wave therapy, K – taping / kinesiotaping, cryotherapy, hypobaric therapy.
The whole rehabilitation process goes on under a constant supervision of a qualified rehabilitation team (orthopaedist, physiatrist, physical therapist) who are capable of adjusting to the abilities and needs of each individual person.
Numerous top athletes have been operated at Akromion Special Hospital.
At Akromion Special Hospital, started the placement of artificial knee joint menisci, which is a new surgical procedure in Croatia.