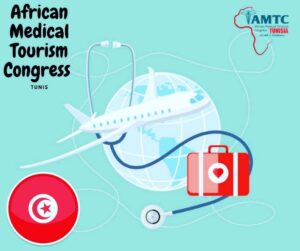 The next edition of the African Medical Tourism Congress Tunisia (AMTC TUNISIA) will be offered as face-to-face edition from 20 to 22 May 2021 (New Dates: 25-27 November) at Palace Gammarth Hotel, Tunis. It is a fantastic opportunity to meet health travel and tourism stakeholders from African countries, establish new partnerships and make a firm step on the African health travel market. Besides companies and destinations from African countries, many others are expected from Europe and the Middle East – in total 20 national delegations, more than 100 speakers and 5.000 participants.                           
The event is hosted under the auspices of the Ministry of Health of Tunisia under the theme "Challenges of Health Tourism: The Emergence of Africa" as a target of many operators in the medical sector world-wide. Check out the Program!
AMTC is committed to provide a platform where medical tourism organizations can identify prospective business opportunities and enable service seekers to find quality healthcare providers, while inviting global stakeholders who want to attract consumers and expand their market to Afrian countries. The main objective of the exhibition is to provide stakeholders with an opportunity to interact, share and identify opportunities in medical and health tourism services.
Special Offer
Exhibition packages start at 4.000 EUR + VAT, while Sponsorship packages starting at 5.000 EUR + VAT offer abundant promotional opportunities. A complimentary VIP invitation to the European HTI Summit in the European Parliament in Brussels in 2021, will be guaranteed to all exhibitors and sponsors referred by the HTI.
If still not sure why would you attend, exhibit or sponsor the event? Check out all the details and Event Brief about this unique African event! More information about the AMTC Tunisia is available here.
For all enquiries please contact at ali.kodan@hticonference.com.
Looking forward to meeting you in Tunisia!