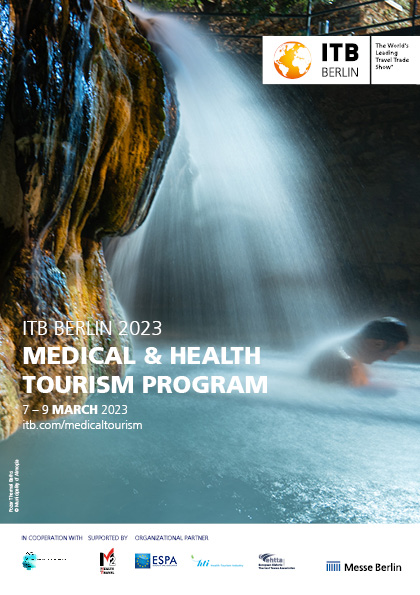 HTI is proud to be the organisational partner of the ITB Medical & Health Tourism Segment at ITB Berlin 2023 which will run from 7 to 9 March 2023. Since its inception, ITB has grown into an important international gathering place for the medical & health tourism industry. This year ITB is presenting an exclusive hall for Medical & Health Tourism for the first time. ITB this year will bring together specialized clinics, health and thermal hotels, associations, destinations and other suppliers from all over the world.
There is a full agenda on the Medical & Health Tourism stage during the new ITB B2B only format of three days co-organized with partners from EHTTA, ESPA, HTI and M2:
Tuesday – 7 March 2023: Official opening of the Medical & Health Tourism Pavilion sponsored by the Catalan Tourism Board with officials from Turkey including a Medical Media Lunch In the evening, FIT Reisen in cooperation with ESPA will host a networking reception in the Medical & Health Tourism Pavilion.
Wednesday – 8 March 2023 is another day full of panel discussions, presentations and expert interviews on the pavilion stage followed by the ITB Medical & Health Night with the ceremony of the ITB Medical & Health Tourism Award.
Thursday – 9 March 2023 offers another educational day on the pavilion stage. And the medical tourism session during the ITB Convention takes place on the green stage in hall 3.1 in cooperation with the UNWTO bringing Health and Sports tourism together.
All information about the Medical Tourism Pavilion and its events at ITB Berlin 2023 is available here.
More details can be found at itb.com/medicaltourism