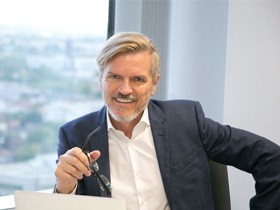 CEO and Founder, HTI Conference and Energy Clinic, Croatia
Zdeslav is the founder of HTI Conference, which has been a leading health tourism industry event in Europe for the last six years. He is also the Founder and President of Energy Clinic and the EBI European Buyer Initiative. Zdeslav has been described as a visionary in European health tourism, bringing the industry together and moving it forward. The European Buyer Initiative (EBI) brings together buyers both within and outside Europe, who are sending patients into Europe. The EBI is a collaborative group focused on creating a coalition and addressing issues unique to European medical and health tourism.
Zdeslav was born in Split, Croatia and was educated in Croatia where following his family tradition he graduated from Zagreb Law School at Zagreb University. /LL.M./ After completing his Lawyer State exam he joined his family's Attorney at Law office.
Following his formal education Mr. Radovcic went on to study complementary and alternative health methods.
Zdeslav received his knowledge at several top institutes in Asia, such as: Yang-Xi Medical School (China), Yap Cheng Hai Centre of Excellence (Malaysia), Feng Shui Hong Kong Centre. He attended various international seminars, workshops and conferences in the fields of Qi Gong, Yoga, TCM and Meditation.
After leaving his Attorney at Law Office in the year 2000, Zdeslav founded Energy Clinic in the UK. Energy Clinic , a new spa concept soon opened its branches in Croatia, Germany, Montenegro and Switzeralnd. Today Energy Clinic is one of the biggest EU Spa chains operating its business in 14 high end hotels.
In 2013 Zdeslav established the Wellness Academy that soon became a leading institution of its kind in south east Europe.
Zdeslav acted as an active member of several NGOs and a President of Wellness Croatia within the Croatian Chamber of Commerce.
In 2011 he completed his MBA in Leadership and Management in Health Systems at Zagreb Medical School, Croatia. /MHA/health methods.