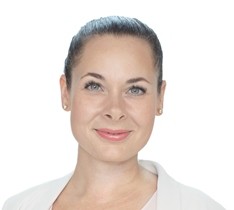 CEO and co-founder – Layette
Sini Havukainen is a CEO and co-founder at Layette, a startup that exports world's best maternity knowledge of Finland to the rest of the world. Year after year Finland has been chosen to be the best country to be a mom, and the data continuously shows the lowest infant and maternal mortality rates in the world. Sini, a professional midwife and nurse, realized the value of this national treasure of her home country after spending couple of years in California, with her husband and children. She got an idea of developing the Layette app to help mothers and families globally to access maternity information that is accurate, proven and can save lives.
Thanks to Sini's vision, energy and leadership Layette has won in Finland nearly all possible awards that a healthcare startup can dream of.
Sini is a frequent speaker in events about entrepreneurship, courage, and aiming high. She enjoys helping startups by coaching and as a board member.