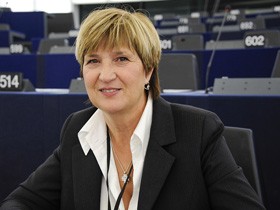 Member of the European Parliament – Host
Ruža Tomašić is a Croatian politician and member of the European Parliament. She was born on 10 May 1958 in Bosnia and Herzegovina. As a child, she moved to the Slavonia region where she lived with her parents, her brother and six sisters. After primary school, the family moved to Canada where she attended high school while working.
At the Police Academy Ontario Police College, she proved to be one of the top students in her class, especially in the practice of martial arts. She worked on the suppression of drugs and of juvenile delinquency, she was the first female motor patrolman and she acted as a stunt in TV shows Millenium and X Files.
She married Vlado Tomašić in 1987. They have two children, Tomislav and Zrinka. After finishing her studies at the Police Academy in Canada, she completed several courses in security procedures for high officials. Therefore, she was appointed head of security during the visit of the Croatian President Franjo Tuđman to Vancouver. President Tuđman was exceptionally pleased with her services and he offered her to work as his bodyguard in Banski Dvori, at that time the seat of the Croatian President. Ruža Tomašić accepted his offer.
She took part in the action to arrest Jakša Cvitanović Cvik, the notorious drug dealer from Korčula. For her exceptional contribution to the fight against corruption and organized crime, she was awarded with a national decoration Stjepan Radić in 2010.
During her political career, she was elected two times as a member of the Croatian Parliament while in 2013 and 2014 she was elected member of the European Parliament, winning the highest number of preferential votes on her list.
As member of the European Parliament, she dedicates herself to the interests of the Republic of Croatia, in particular to the protection of the Croatian fishing industry. She is a full member of the European Parliament's Committee on Fisheries (PECH) and the European Parliament's Committee on Regional Development (REGI).