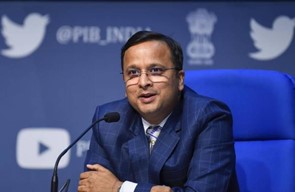 Lav Agarwal – Additional Secretary, Government of India, Ministry of Health & Family Welfare
Mr. Lav Agarwal is an officer of Indian Administrative Service (IAS). He is a Mechanical Engineer from Indian Institute of Technology, New Delhi; subsequent to which he joined IAS and was allotted the state cadre of Andhra Pradesh.
He is presently on deputation to Government of India as Additional Secretary to Government, Ministry of Health and Family Welfare.
His responsibilities include: handling national and International operations in Digital Health & Telemedicine, National Centre for Disease Control, Climate Change & Health, Health Emergencies, Anti-Microbial Resistance and Rabies Control Program, Zoonotic diseases and Disease Surveillance for the country.
He is also in charge of overall International Health and Cooperation representing the Ministry of Health. The COVID-19 outbreak has proven to be the biggest public health challenge of present time. Being Nodal officer for Health Emergencies of India, he is responsible for providing supervisory guidance and has coordinated a proactive, pre-emptive and graded response to COVID-19 outbreak, as per evolving scenario.
Previously, he has worked in various capacities since the last two decades in his cadre state of Andhra Pradesh. He served in various departments which includes: Health, Election Commission, Power Distribution, Education, Youth Services and Sports, Housing and Disaster Management.