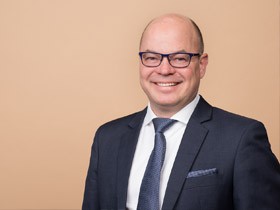 CEO, Managing Director, Docrates Cancer Center
Helsinki, Finland
Ilpo joined Docrates Cancer Center in Helsinki in May 2017 as the CEO for the private international cancer hospital. Ilpo has a long prior experience from international pharmaceutical industry. He joined MSD in Finland in 1991 and hold several roles in marketing and sales until 1999. In 1999-2002 he joined the Merck (MSD) Global Marketing Team in New Jersey USA and returned back to Finland for a leadership position in marketing and market access at MSD. Since 2006 Ilpo was responsible for MSD in Finland as a Managing Director and since 2011 as an Assoc. Vice President and Managing Director for MSD in Finland and Baltics. During the 25years at MSD he gained a strong experience in leadership and international sales and marketing.
Ilpo Tolonen has been a board member of Pharma Industry Finland in 2006-2017 and Chairman of the Board in 2011-2012. He was a founding member for AmCham in Finland and an active player in Policy Committee. Known as an active spokesman for innovative pharma in Finland, Ilpo was a member of Council for Foreign Investors at the Ministry of Employment and the Economy, the University of Helsinki Network for Societal Interaction and Team Finland Health. Now he is a member of the Board at Helsinki Business Hub (HBH) and in an association representing private health care providers in Finland (LPY). Ilpo is one of the founding members in establishing Medical Tourism Association of Finland in Feb 2018, where he acts as a Chairman of the Board.
Ilpo Tolonen, Finnish nationality, holds a M.Sc. Economics from the University of Oulu Finland