European Health Tourism Industry Magazine, the first of its kind in Europe.
Benefit from awareness at +10 industry events a year and +67.000 top-level readers of the printed and online version!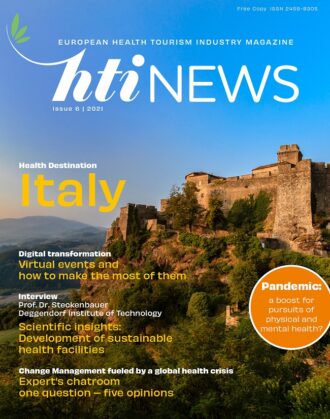 Deadlines:
Booking of advertisements 08.06.2021.

Delivery for advertorials and press content 15.06.2021.

Print data delivery 18.06.2021.
We are excited to announce our upcoming edition of the HTI News Magazine which is planned to be published in May. Started in 2017 the magazine has been freshened up in 2021: together with our new publishing partner CSI CONSULTING a new structure, further rubrics and an enhanced layout for an even better reader experience have been created.
The first and leading European business magazine that promotes and connects renowned stakeholders and service providers in health travel and tourism business.
The content features a wide variety of topics that spans from the latest news and top-level interviews to the most relevant industry insights from thermal and medical spas, destinations, travel agencies, hospitals and clinics, wellness hotels and medical sectors.
Readers benefit from the valuable HTI network by discovering upcoming events and congresses and following experts´ discussions about topical industry issues.
Advertising clients benefits from an exclusive editorial environment, promotional support, high awareness and visibility within a top-level community.
Get in touch with the top professionals, health experts and leaders of the health tourism industry from both the private and public sectors.