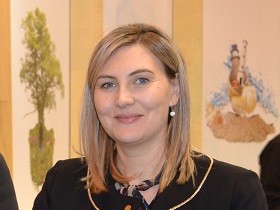 Deputy Director of Termatalia, Spain
EDUCATION:
1999- 2003 Degree in Communication Sciences (Journalism) by the University of Santiago de Compostela.
Post Degree capacitation:
MBA in Business Communication (University of ACoruña)
Post Degree in Business Protocol (CEO)
Master in Market and Marketing Strategy Direction (CEO)
PROFESSIONAL EXPERIENCE:
Expourense – Fundación Ferias y Exposiciones de Ourense (since January 2004). Position: Deputy Director and International Relations Director.
More prominent projects:
TERMATALIA – International Fair of Thermal, Health and Wellness Tourism (Coordinator of the International Meeting about Water and Thermalism).
XANTAR – International Fair of Gastronomy and Tourism.
THERMALISM INVESTORS FORUM (Ourense January 16th and 17th 2013; Madrid January 31st 2013)
Expourense Representative in the Ourense Province Thermal Council.
Expourense Representative in the Galician Tourism Cluster.
EXPERIENCE AS A LECTURER IN INTERNATIONAL CONGRESSES RELATED WITH HEALTH AND TOURISM AND WELLNESS:
– 12th Annual European Spas Association Conference (Pärnu- Estonia), May 10th – 11th 2007.
– 14th Annual European Spas Association Conference (Yverdon-les-Bains, Suisse), May 6th – 9th 2009
– II International Health Tourism Congress (Antalya – Turquey) February 27th – March 2nd 2009.
– Congress of the French Odontology Society ofThermalism and Talassotherapy (La Roche Posay – France) March 26th – 28th .
– II Wellness Conferences (Barcelona – Spain). February 26th – 27th 2011 (organized by TribunaTermal).
– 16th European Spas Association Congress (Belek -Turkey), May 26th 2011.
– Aquameeting (Porto – Portugal), May 13rd – 16th 2011.
– World Health Tourism Forum (Mexico DF – Mexico). November 28th – 29th 2011.
– 38th International Society of Medical Hydrology Congress (Lanjarón- Spain), June 20th – 23rd 2012.
– 3rd Argentina Health Tourism and Wellness Symposium (Buenos Aires – Argentina), June 2013.
– 19th European Spas Association Congress (Vejle – Demmark). May 20th – 23rd 2014.
– OMT Gobal Forum – Knowledge Network (University or Anahuac – Mexico). May 28th – 30th.
– I Thermalism and Health Tourism Symposium (Termas de San Joaquín – State of Coahuila de Zaragoza- Mexico), June 2nd 2014.
– 20th European Spas Association Congress (Sopot- Poland), May 19th – 22nd.
OTHER PROFESSIONAL DATA:
– Galicia Delegate of APROFECO- Spanish Association of Fairs and Congresses Professionals.
– Guess Lecturer of the High Technology and Management School of Lamego (University of Viseu – Portugal). Years 2010 and 2012 (Tourism University Degree Master Classes).
– Guess Lecturer of the Health and Inside Tourism Master of the University of Vigo (February 2014, February 2015 and February 2016).
– Vicepresident of the Organizer Committee of the 1st International Congress on Water, organized by the Univiersity of Vigo, Diputation of Ourense, City Council of Ourense and Expourese (January – September 2015).
– Communication Director of the Order of Saint James Way.