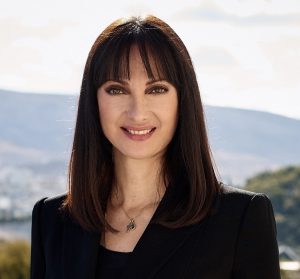 Elena Kountoura, Member of the European Parliament
Confederal Group of the European United Left – Nordic Green Left (The Left)
Committee on Transport and Tourism (TRAN) – coordinator
Committee on Women's Rights and Gender Equality (FEMM)
Committee on Industry, Research and Energy (ITRE)
Delegation to the Parliamentary Assembly of the Union for the Mediterranean
Substitute (DMED)
Delegation for relations with the Mashreq countries (DMAS)
Delegation for relations with the Korean Peninsula (DKOR)
Member of the Greek Parliament (2004-2019), elected six times in the First District of Athens.
Minister of Tourism of Greece (Jan 2015 -May 2019), in the government of Alexis Tsipras.
Recipient of several prestigious awards for her work in the field of tourism, including:
– Tourism Minister of the Year 2018-2019 global award in ITB Berlin, by PATWA
– Global Champion 2019 award for Destination Stewardship, by the World Travel & Tourism
Council (WTTC)
– "Tourism Strategy and Resilience" 2019 global award, by the International Institute for Peace through Tourism (IIPTI)
MEP, elected with the SYRIZA-Progressive Alliance party (May 2019).